The old adage that your website is the only salesman that never sleeps still rings true, but even the best salesman gets tired.  A local business website has grown in importance over the years as consumers leverage technology during the buying process.  These pre-sales activities may include comparing prices among competitors, comparing the specs of similar items for rent, and learning more about the equipment they will be renting.
The Rental Industry is Changing
In July 2016, United Rentals announced with much fanfare that they launched a new website with the ability to view account information, and create rental quotes. Texada has been helping their customer do this for over 5 years and Noble Iron in California has been using our newly redesigned platform for almost two years now.
The Internet Has Changed
Many rental companies designed websites ten years ago, and haven't done much to update them since.   The internet has changed a lot over the last decade, and those that do not stay current will fall behind and be outmatched when competing for new rental business.  For example, Google recently updated their search algorithm to favor sites that are mobile friendly if a searcher is on a tablet or mobile device.  If your website does not scale to fit the browser size of any device then you will be missing out on free traffic from the number one traffic source in the world.
What Do Customers Want?
BrightLocal, recently did a survey of consumers on how a local business website affects their buying decisions, and what they look for on the local business website.  They found that the number one thing consumers look for on the website is a list of available products, and second was pricing.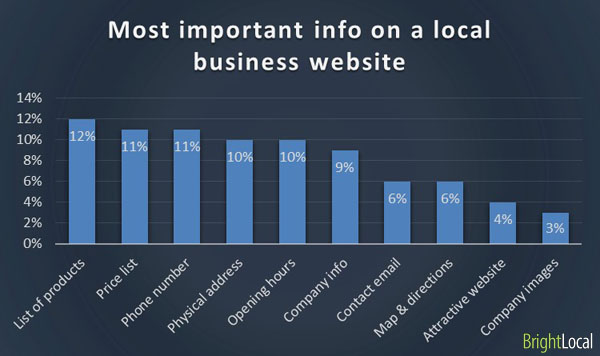 Keeping a website updated with the latest products and prices, and sending out customer specific price lists can be a time consuming task.  A website that is integrated with your rental management software takes care of all this work in the background.
Information Vs Transactional Websites
After reviewing the websites for hundreds of rental companies they can be divided into two categories; informational, and transactional. An informational website provides the reader with who you are, and what you do.  In contrast, a transactional website will enable a customer to learn about you, browse your equipment, and then make a purchase right on the website.  If they need to reach out to you with any questions or concerns your contact information is readily available, but those that know what they need can complete the transaction without any assistance from your staff.
A full featured transactional website would also provide customers with access to view their current contracts, invoices, and request equipment service.  The time and effort savings for the customer and for your frontline staff can be remarkable.   Customers are happier because they can quickly get what they need, and your staff's time isn't wasted doing simple data entry tasks. Instead they can be pursuing new leads, and be readily available to help customers who do need help.
You Know The Problem, What Is The Solution?
If you are ready to upgrade your website, you can contract a software developer, or website designer to give your existing website a fresh new look, and maybe even build some transactional features like a quote request.  
Another option would be to upgrade your site with new transactional features powered by our GateWay Website Platform for Rental Businesses.  Since GateWay is integrated with SRM, your customer's account history, your products, and your pricing will be linked and always up to date.
GateWay websites are optimized for mobile devices, tablets, and computers providing an always accessible experience to your customers.  Salesman appreciate being able to put in orders from the road, and get realtime email confirmations.
References:
Learn more about the BrightLocal Survey
Learn about United Rentals New Site 
Explore The Benefits Of Using Transactional Features On Our GateWay Demo Site